Leave Your Mark

Gift a quote, etched on campus. A legacy for generations to come.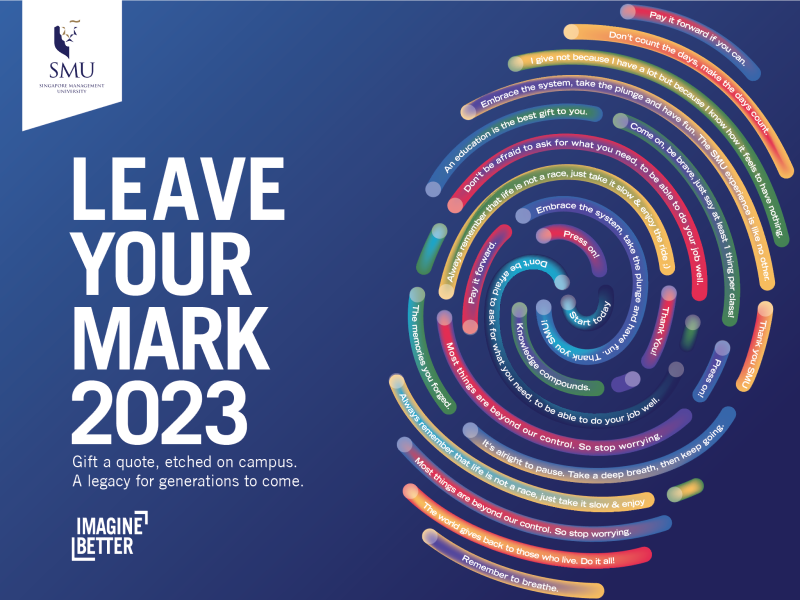 The Leave Your Mark campaign is an opportunity for fresh graduates to make their very first gift towards their alma mater by sharing a meaningful message or quote together with a donation to support the SMU Bursary Fund.
How it works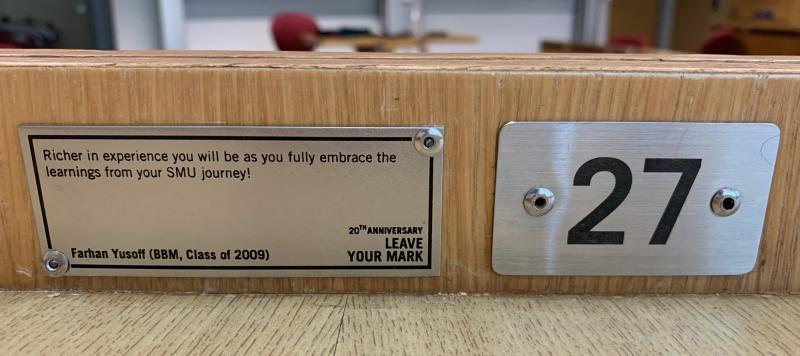 With a one-time gift of $120, contributing alumni will have their quote engraved on commemorative plaque bearing their name, class, and year of graduation. This will be permanently attached to tables in seminar rooms throughout campus for future generations of SMU students to 'hear' words of wisdom from proud graduates.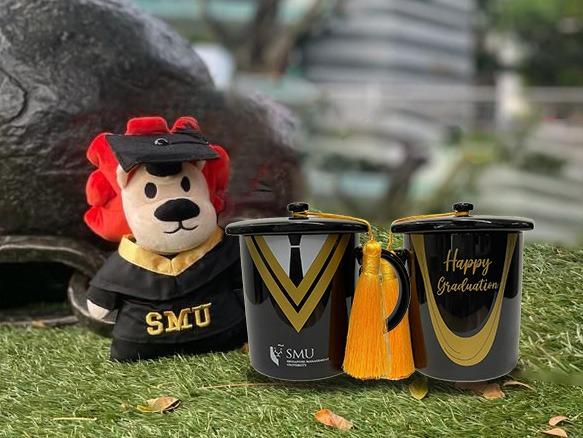 What's your impact on SMU students?
Your contribution will allow financially challenged students to experience an enriching academic life at SMU, and you leave a legacy for generations to come with your quote etched on campus. 
Every qualifying donation will enjoy 2.5 times tax deductions made from 1 January 2016 to 31 December 2023. In addition, your gift will receive dollar-for-dollar matching by Tote Board for funds raised for Leave Your Mark, doubling your impact and contribution.
More Information
Message Guidelines
Please note that the message can only contain a maximum of 100 characters. SMU reserves the right to decline any quotes that are inappropriate. All quotes should be presented in sentence case and maintain a secular tone.
The following types of quotes will not be accepted:
Quotes that contain defamatory contents against a person or an organisation.
Quotes of a political nature, or mention of any political party.
Quotes that contain explicit content.
Quotes that are vulgar, inflammatory, threatening, depict unlawful assault or any other illegal activities.
Quotes that contain product advertisements, marketing and/or promotional content.
Quotes that promote Instagram handles of personal or business accounts.
Quotes that only contain symbols/emoticons.
Plaque Installation
All quotes will be collected and consolidated by end of 2023. Estimated completion of plaque installation is March 2024;  alumni donors will be notified by email on the progress. For any clarifications, please contact the Alumni Giving team.
(Plaque dimensions: 90mm (length) x 35mm (height) x 1mm (width))
Class Plaques
Please contact the Alumni Giving team for a collective gift towards a class plaque.
Other Alumni Giving Campaigns
Follow Alumni Giving today!